When: December 5 & 7, 2017 | 8:45 a.m. – 3:30 p.m.
Where: Neville Scarfe Building, Room 100 (keynote) and various rooms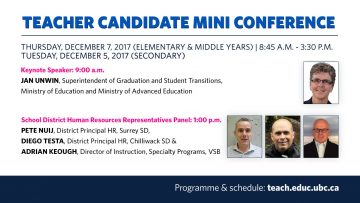 This is a full day on-campus conference for BEd teacher candidates with keynote speakers and a choice of three break out sessions. Teacher candidates will be able to choose from a selection of breakout sessions that will be held in Scarfe and nearby buildings on campus. A full list of sessions will be posted soon.
Keynote speaker:
9:00 a.m. – Jan Unwin, Superintendent of Graduation and Student Transitions, Ministry of Education and Ministry of Advanced Education
School District Human Resources Representatives:
1:00 p.m. – Pete Nuij, District Principal Human Resources, Surrey School District 36
Diego Testa, District Principal Human Resources, Chilliwack School District 33
Adrian Keough, Director of Instruction, Specialty Programs, Vancouver School Board, SD 39