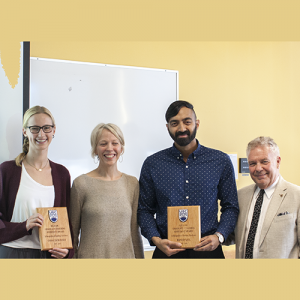 We are pleased to announce that Randip Gill and Geralyn Ruissen are recipients of the 2017/2018 Killam Graduate Teaching Assistant Award!
The award is presented each year to a small number of graduate students who have made outstanding contributions to teaching and learning at UBC. There are over 2000 Teaching Assistants working at UBC, so this is quite the achievement!
The winners received a plaque, a formal certificate, and a cash prize at the award ceremony on May 9th. Congratulations!