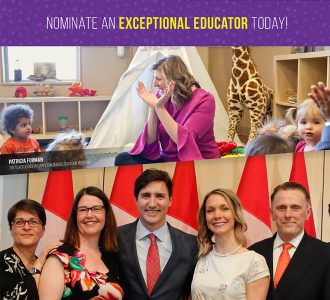 Nominate a teacher
The Prime Minister's Awards for Teaching Excellence
These awards honour outstanding and innovative elementary and secondary school teachers in all disciplines for their remarkable educational achievements and for their commitment to preparing their students for a digital and innovation‑based economy. The recipients' monetary awards are funded by the RBC Foundation.
NEW: The Prime Minister's Awards for Teaching Excellence in STEM
New this year, awards will also recognize inspirational Science, Technology, Engineering, and Mathematics (STEM) teachers at the elementary or secondary school level who keep students engaged in STEM learning and who help develop the culture of innovation that Canada needs today, and in the future.
---
2018 Nomination Guidelines
Who is eligible?
Canadian citizens or permanent residents of Canada
Certified teachers at a Canadian elementary or secondary school
Candidates who have taught the equivalent of 2.5 days per week in a classroom setting for at least three years
Here is the full list of eligibility criteria.
What do winners receive?
Recipients of the award receive the following:
Cash awards worth up to $5,000
A certificate from the Prime Minister
Promotion of their best teaching practices
National recognition for their contribution to excellence in education in Canada
How do I nominate a teacher?
Nominators need to submit a detailed nomination package that includes:
A nomination text that shows how the teacher meets the five selection criteria
Three letters of support from people who know and support the teacher
Supporting documentation that confirms the teacher's eligibility
How do I get started?
Start the nomination process today by downloading a nomination package (PDF 183 KB, 9 pages).
---
Nomination deadline
Nomination packages must be submitted to the Prime Minister's Awards program office by email or regular mail by January 12, 2018. Late entries will not be considered.