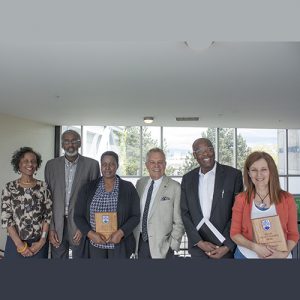 We are very pleased to announce our latest faculty award winners, Dr. Cash Ahenakew, and Dr. Karen Meyer, who are the recipients of the Killam Teaching Prize, and Dr. Bathseba Opini, recipient of the Sessional & Lecturer Teaching Prize.
The Killam Teaching Prize is awarded annually to faculty nominated by students, colleagues and alumni in recognition of excellence in teaching. Winners are recognized at the graduation ceremonies.
The Sessional & Lecturer Teaching Prize is awarded in recognition of the significant contribution that Sessional and Lecturer faculty members make to our programs. The prize is awarded annually to outstanding educators.
Learn more about these inspirational educators:
Dr. Cash Ahenakew is an outstanding teacher and mentor who optimally contributes to the learning advancement of our students. With his excellent on-campus teaching and supervision, including his work with the Indigenous Teacher Education program, Dr. Ahenakew's multi-location instructional achievements extend to the wider Indigenous community contexts. His nominators emphasize how his teaching is at the forefront of our efforts to Indigenize the curriculum and related teaching and learning platforms. It is with that spirit and practice that Dr. Ahenakew establishes "new and pedagogically decolonizing knowledge platforms" that analyze and extend our diversely constructed epistemic and epistemological perspectives and positionalities.
Dr. Karen Meyer commits to teaching as a life project, walking three paths as an "exceptional" teacher. She has walked alongside urban teachers for two decades through job action, strikes, self-care issues, elevated vulnerabilities inner-city schools encounters, and recycling reform. Dr. Meyer's second path led her to a refugee camp in northeastern Kenya, joining young, uneducated teachers who face obstacles and uncertainties with inspiring resilience. Her third path offers support for graduate students, continually at risk of losing their voice to academic tradition. As a pedagogue, walking ground-breaking paths, Dr. Meyer brings both critical consciousness and conscientious attention to each teaching moment.
Dr. Bathseba Opini is an outstanding teacher and mentor for our students. During her teaching tenure as an EDST 12-month lecturer in the past half-dozen or so years, Dr. Opini's instructional achievements including her practicum work, have been exceptionally impressive. Her students speak very highly of her admirable teaching qualities with some highlighting how her instructional methodologies imprint enduring perspectives and prospects of the topic and the lesson in their minds and within their overall learning experiences. Her nominators emphasize her distinctive teaching and mentorship qualities where she is willing to help her students inside and outside the classroom, and in some cases, after their graduation.
They are each exceptional teachers, and we thank them for their contributions to the Faculty of Education.