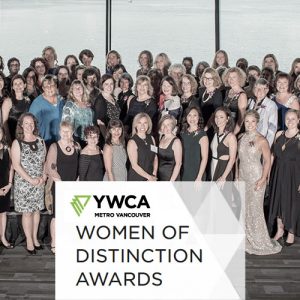 March 12, 2018
The Faculty of Education is pleased to congratulate two Education alumni on being nominated for the 2018 YWCA Women of Distinction Awards in the category of Education, Training & Development:
Rosalind Poon (BSc 1999, BEd (Sec) 2000, Dip Ed 2006, MEd 2010), and
Colleen Vaughan (BComm 1991, MEd 1998)
Recognized nationally, the YWCA Women of Distinction Awards honours individuals and organizations whose outstanding activities and achievements contribute to the well-being and future of our community.
Winners will be announced at the 35th annual YWCA Women of Distinction Awards ceremony to be held at the JW Marriott Parq Vancouver on Thursday, June 7, 2018.
---
Rosalind Poon (BSc 1999, BEd (Sec) 2000, Dip Ed 2006, MEd 2010)
As a Teacher Consultant for Richmond School District, Rosalind is leading ground-breaking initiatives in the areas of Science, Environmental Sustainability, Literacy, Assessment and Mentorship. She has been key in the development of ground breaking concept-based, competency-driven Grades 10-12 Science curriculum and worked with a multi-district team to develop Performance Standards for the implementation of the K-9 Science curriculum. Rosalind led the redesign and implementation of the District's Environmental Stewardship Policy through the creation of new structures and programs. She established a new district network focusing on inquiry processes to enhance student learning and has been part of the provincial Adolescent Literacy Network, supporting multi-district collaborative learning around literacy and assessment. Rosalind has received awards from the City of Richmond and the Richmond Board of Education for empowering students and educators.
Colleen Vaughan (BComm 1991, MEd 1998)
Colleen, Vice-President, Academic at the Justice Institute of BC (JIBC), played a critical role in the development of Canada's first interdisciplinary undergraduate degree in JIBC's Bachelor of Emergency and Security Management Studies. She was instrumental in establishing JIBC's innovative relationship with the Aga Khan Development Network, contextualizing and adapting curriculum for learners in south and central Asia. Colleen was JIBC's champion for the Rural Disaster Resiliency Planning and Aboriginal Disaster Resiliency Planning projects. These applied research projects led to the creation of web-based tools and community education materials to help improve the disaster resiliency of rural, remote and Indigenous communities. Her numerous volunteer and community activities include serving on the board for the Emergency Social Services Association and being a representative at the 2017 Global Platform for Disaster Risk Reduction.