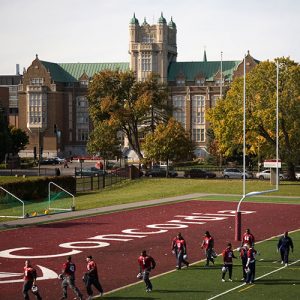 When: November 30 - December 3, 2017
Where: Concordia University, Montreal
An international forum to explore Human Rights Education (HRE) solutions to global challenges, ICHRE 2017 is being co-hosted by Equitas, Canada's leading NGO committed to human rights education, and Concordia.
Noteworthy points: all three levels of government, federal, provincial, and city, have committed attendance and resources to this event (as well as major private sector contributions). The office of the Prime Minister will be presenting at the opening plenary panel, along with the office of the United Nations High Commissioner for Human Rights:
Fundamental global challenges and HRE as a response
Speakers:
The Right Honourable Justin Trudeau P.C., M.P., Prime Minister of Canada or representative (invited)
United Nations High Commissioner for Human Rights, Zeid Ra'ad Al Hussein or representative (invited)
Up to 400 attendees are expected from academic, government and NGO levels, as well as the public. The objective is to promote a dialogue with "experts", policy makers and practitioners to affect real change.
---
CONFERENCE OVERVIEW
In our globalized world today, we are experiencing more and more conflict based on ethnic, religious, and socio-economic identities and differences. Communities are struggling to respond to the impact of global migration patterns and the challenges associated with managing greater diversity. As our understanding of human rights and equality continues to evolve, we are constantly challenged to ensure the equitable participation of women, youth and groups that have been marginalized, including indigenous peoples; refugees/newcomers; visible minorities; lesbian, gay, transgender, bisexual, queer and intersex (LGBTQI) people; and people living with disabilities.
More than ever, there is a need for approaches that promote understanding, respect, inclusion, equality and reconciliation, and human rights education (HRE) is a key strategy in this regard. It helps individuals and groups to identify their rights and claim them effectively; to make informed choices; to resolve conflict in a non-violent manner; and to participate responsibly in their communities and society at large. It also helps those who are responsible for protecting and fulfilling human rights to meet their obligations.
This conference will provide opportunities to share existing HRE experiences and tools. It will create spaces where practitioners, policy-makers and academics can explore how HRE can build more peaceful and equitable communities and provide effective solutions to current national and global challenges related to diversity, inclusion, reconciliation, conflict and the resulting violence based on extremism.
Goals and objectives
The overall goal of the conference is to develop a dynamic articulation of the value of HRE as well as to document a collection of innovative and effective HRE strategies and practices in order to respond to current global challenges.
This 3.5-day conference will assemble approximately 300 practitioners, policy-makers and academics who will have the opportunity to:
Discuss and document the contribution of HRE in tackling current global challenges
Identify strategies for ensuring HRE becomes a higher priority for Governments and civil society organizations
Share and document good HRE practices and success stories from around the world, that aim to promote respect for diversity and inclusion, strengthen social cohesion and reconciliation, promote sustainable development and provide alternatives to extremism and violence
Reinforce existing efforts to build networks and communities of practice for human rights educators
CONFERENCE THEMES AND RELATED TOPICS (from the Call for Papers/Workshops)
Conference theme #1:  Contribution of HRE in tackling global challenges
Conference theme #2: Strategies for greater engagement of Governments and civil society in HRE
Conference theme #3: HRE practices for building equitable and inclusive communities
Conference theme #4: HRE tools and tactics to enhance impact
CONFERENCE LANGUAGES
The Conference will take place in English and in French. Simultaneous translation will be provided for all plenary sessions. Workshops or panel presentations will take place in either English or French.
Photo: Concordia University