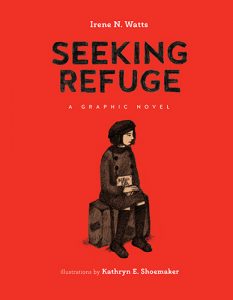 Congratulations to alumna Dr. Kathryn E. Shoemaker (MA '06, PhD '14) (illustrator) and Irene N. Watts (author) on receiving one of four prestigious 2017 Vine Awards for Canadian Jewish Literature. Their graphic novel, Seeking Refuge (Tradewind Books), won for the "Children's/Young Adult" category.
"A superb graphic novel dramatizing the Kindertransport, a powerful story enhanced by firsthand experience and beautiful black-and-white illustrations." – The Vine Awards Jury
From the press release:
The Koffler Centre of the Arts is proud to announce the four winners of the 2017 Vine Awards for Canadian Jewish Literature, all of whom were on hand to be celebrated at the Award Luncheon at the Park Hyatt Hotel. The Vine Awards honour both the best Canadian Jewish writers and Canadian authors who deal with Jewish subjects, in four categories; fiction, non-fiction, history and young adult/children's literature; each with a prize of $10,000. An additional $10,000 prize for poetry will be awarded again in 2019. The Jury, Ami Sands B rodoff, Bob Bossin, and Cary Fagan selected the winners from the 58 submissions accepted this year.
"The jury was challenged by the exceptional quality of Vine Award submissions this year," says Cathy Jonasson, executive director of the Koffler Centre of the Arts. "They worked hard to arrive at a consensus in choosing the winners from among the many deserving books that were submitted. The Koffler Centre of the Arts is happy to support this important prize both for the recognition it brings to the authors and their books, and because the jury's comments draw attention to the ideas and issues explored in the books, many of which become the stimulus for conversations as part of the Koffler's public programs."