When: Wednesday, April 25, 2018 | 2:30 p.m. – 4:00 p.m.
Where: Ponderosa Commons, Room 1001, 6445 University Boulevard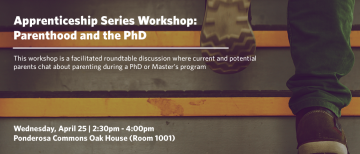 The LLED GPAs are excited to announce the last instalment of our 2017/2018 Apprenticeship Workshop Series: "Parenthood and the PhD!". While the event is an LLED initiative, all Faculty of Education grad students are invited to attend.
The format of the workshop will be a facilitated roundtable discussion where current and potential parents chat about parenting during a PhD (or Master's program!). Five individuals who are a) currently PhD students in LLED or b) who have graduated the doctoral program at LLED, will be taking a leadership role in the conversation.
The conversation will be organized into 3 primary section:
Preparing for Parenthood
The First Year
Parenting while PhDing
The purpose of the workshop is to focus on both informative personal insights about parenting during grad school, as well experiences accessing the institutional resources/supports that are (or a not) in place at UBC. This is not a "information session", but rather experience-based sharing.
The workshop is also being held in partnership with Graduate and Post-Doctoral Studies (G+PS). G+PS is currently doing work on this topic, and it is hoped that this workshop can help inform some of their initiatives.
If interested, please RSVP by April 20, 2018. Any questions can be directed to Kaye Hare at lled.gpa@gmail.com.