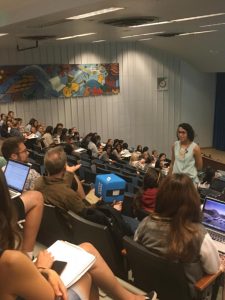 As part of the TLEF project, "Enhancing Secondary Teacher Candidates' Digital Competencies", Technology Integration Mentor, Yvonne Dawydiak, and ETS coordinated two workshops centered around assistive technology and open education resources.
Students and instructors in each section of ESPE 317 had the opportunity to partake in lectures and workshops that modeled digital technology integration. The workshops ran on July 6, 2017 and August 1, 2017.
Special thanks to Kathy Heikkila, course coordinator of the Development and Exceptionality course along with the seminar instructors for their interest and support in helping us introduce Teacher Candidates to these important concepts and resources.
Workshops
The first workshop incorporated the concept of Universal Design for Learning (UDL) and focused on the integration of assistive technologies in the classroom to provide a more equal and just learning environment for all learners. In the assistive technologies lecture, we discussed and introduced the various resources available to teachers to use with varied learners in the classroom based on five types of assistive technologies: reading, vision, writing, communicating and studying. Teacher Candidates participated in open discussions surrounding the five categories of assistive technologies, reflected on their practicum experiences and had hands on opportunities to play with different digital technologies including ThinkMap Visual Thesaurus and ShowMe Interactive Whiteboard.
The second set of workshops was composed of two parts (lecture and seminar) and was a joint effort between CTLT and the UBC library. This initiative was designed to introduce Teacher Candidates to licensing and open education resources (OER) and, hopefully, to promote the sharing of materials online among educators.