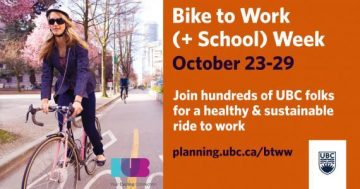 When: October 23-29, 2017
Want to get more out of your commute to UBC? How about enjoying more fresh air, improved health and a lower carbon footprint?
Jump on a bike and invite a friend or colleague to join you for Bike to Work Week at UBC, October 23-29, 2017.
Participating is free, quick and easy:
Register online with HUB (the sooner, the better)
Choose your workplace – "University of British Columbia-UBC" – then join a team or create your own.
Map your route to work.
Log your route with HUB each day you ride.  This will track your kilometers, GHG emissions and calories.
Nervous about joining? Here are the top five reasons you should participate:
To feel great
To save money
To get to where you're going faster
To enter to win prizes (including new bikes, and even a cycling tour in Italy)
To defend UBC's Champion status
If you already registered in a previous Bike to Work Week, simply log in and log a trip to be considered a spring participant. Once you're done, start thinking about the other UBC teams you're going to try and beat this year.
If you are a seasoned cyclist, perhaps it's time to think about your bragging rights? We need competitive riders to help UBC defend its place as champion for Best Workplace 1000+ and Best in Higher Education in BC.