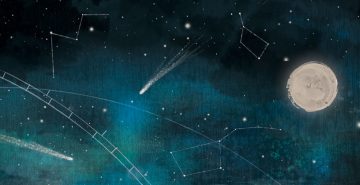 When: Saturday, August 12, 2017 | 5:00 p.m. – 12:00 a.m.
Where: UBC Museum of Anthropology, 6393 NW Marine Drive
Explore our connection to the stars during an evening of arts and astronomy.
Inspired by the global dark sky movement, Blackout brings together storytellers, musicians, artists and astronomers to share their relationships to the skies. Join us to witness the peak of the Perseid meteor shower and explore the museum until midnight during this all-ages event.
You'll have the chance to peer into telescopes, make your own star lantern and experience an experimental art installation that reimagines the constellations. Bring a chair or blanket and enjoy stargazing to a soundtrack of downtempo, ambient and tribal beats, punctuated by live music and throat singing.
Adults $10 | Youth & Students Free | All-Ages / Licensed
---
Blackout Night Sky Festival Schedule
Indigenous Sky Stories | 5:00 p.m. – 6:30 p.m.
Join us in the Great Hall for celestial storytelling by Margaret Grenier and learn about what you'll see in the skies that night from the UBC Astronomy Club.
Late Night Gallery Viewing | 5:00 p.m. – midnight
Explore MOA all night long — including our brand new Gallery of Northwest Coast Masterworks.
Bar + BBQ + Music | 7:00 p.m. – midnight
Grab a bite to eat or drink from our licensed bar and enjoy the music that runs all night. Vegetarian and non-alcoholic options available.
Lantern Making Workshop | 7:00 p.m. – 9:00 p.m.
Make your own pinhole lantern inspired by constellations from around the world in this drop-in workshop hosted by the Secret Lantern Society.
Reclaiming the Night Skies | 8:30 p.m. – midnight
Experimental artists Hfour and the MOA's Native Youth Program present an immersive, projected art installation that brings to life a series of new constellations, featuring soundscapes by Adham Shaikh.
Lantern Procession | 9:00 p.m.
Join the procession of freshly built lanterns and roving musicians as we make our way across the Museum Grounds and up the hill for a night of stargazing!
Stargazing + Meteor Shower | 9:30 p.m. – midnight
How many meteors can you find? Expand your knowledge of the night sky with the telescopes and expertise of the UBC Astronomy Club and HR MacMillan Space Centre, set to a background of live and electronic music. On view that night: Moon, Saturn, Jupiter, M13, M15, Ring Nebula, Lagoon Nebula, Dumbbell Nebula and the Perseid meteor shower.