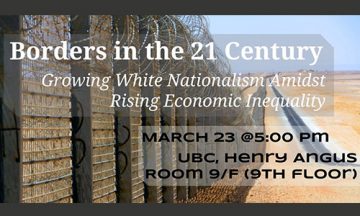 When: Thursday, March 23, 2017 | 5:00 p.m. – 7:00 p.m.
Where: Henry Angus Building, Room 9/F, 2053 Main Mall
This is the fourth event in a series of interdisciplinary roundtables on the "Face of Modern Capitalism" that will be happening this year. The overarching goal of these discussion series is to create alternative discourse spaces for students, scholars, and activists to engage in critical discussions about the development of Western capitalism and the contemporary social and economic issues facing us. This event is organized with the support of Dr. David Silver.
In the last year, we have observed the rise of white nationalism and economic protectionism across the Western hemisphere manifested in the election of Drumpf and Brexit vote outcomes. Since the 1980s, while the world economy was becoming much more integrated, capitalist and reliant upon free trade, US influence has continued to rise. This panel discussion aims to unpack the social, economic, cultural and political landscape of modern Western hegemony, specifically in regards to the rise of economic and political borders in UK and US, and its consequences on the rest of the world.
Panelists:
1) Litsa Chatzivasileiou (UBC GRSJ)
(2) Daniel Tseghay (Vancouver-based Community Organizer)
(3) Jamie Peck (UBC Geography)
(4) Geoffrey Mann (SFU Geography)
(5) Vanessa Andreotti (UBC Education)
(6) Leonora C. Angeles (UBC GRSJ)
(7) Zehra Naqvi (UBC English, Undegraduate)