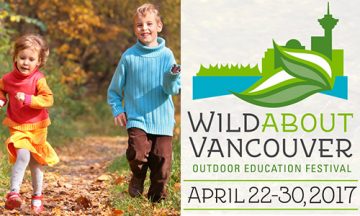 This year Wild About Vancouver (WAV) is encouraging all teachers and TCs in the lower mainland to enter an outdoor lesson in the festival.  Outdoor lessons are not open to the public, just you and your class learning outdoors.
Outdoor lessons can be any lesson outdoors. By gathering together the diversity of outdoor lessons, WAV will be able to illustrate a range of outdoor learning.
All lessons entered will be entered into a draw to win prizes to support outdoor learning for teachers and students.
It takes 5 minutes to enter a lesson: http://www.wildaboutvancouver.com/submit-an-event-2/
There is also a poster and a flyer you can put up around your school to promote outdoor learning.  Please let your colleagues know about WAV and encourage them to get INvolved to get more kids OUTdoors.