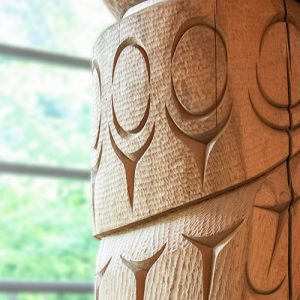 When: Saturday, March 3, 2018 | 8:30 a.m. – 4:00 p.m.
Where: First Nations House of Learning, 1985 West Mall
In envisioning the theme for the 16th Indigenous Graduate Student Symposium (IGSS), Walking In Two Worlds & Occupying the Third Space: Indigenous Graduate Student Experience, we draw on the work of Torres Strait Islander Martin Nakata to explore the third space. We ask presenters to consider the ways in which Indigenous graduate students negotiate the challenges of bringing traditional teachings to scholarship, and the academy more broadly. This conference theme will reflect on how Indigenous scholars are balancing community expectations, and responsibilities to academic work and occupying the third space in doing so.
Indigenous graduate students or graduate students whose research relates to Indigenous scholarship in any discipline or across disciplines are invited to submit a proposal for a conference paper, panel, roundtable, workshop, or creative expression limited to 150 words.
Deadline for submission: December 22, 2017 by 5:00 p.m.
Selected presenters will be notified by January 31, 2018.
Send proposals and questions to: grad.sage@ubc.ca