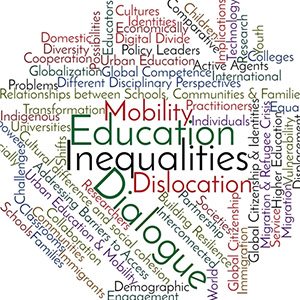 Michigan State University's College of Education has announced a conference on "Addressing inequalities, mobility and dislocation: Insights from international and domestic research and practice" to be held in East Lansing, Michigan, June 12-13, 2017. This conference will bring together researchers and practitioners from Michigan, across the continent, and around the world, working across a variety of disciplinary and professional perspectives. Together, we will explore how to work toward educational contexts that can help individuals, families, and communities thrive in the midst of inequity due to mobility, displacement, and other changes to education on local, national, and transnational scales. ​
In the context of the current global moment of social, economic, political and cultural transformation and dislocation, inequalities are growing. Exploring ways to understand and address them is even more urgently needed. This conference creates an opportunity for dialogue among US and international scholars and practitioners working on inequality in a range of contexts, drawing on different disciplinary perspectives and approaches. Our goal is to strengthen our insights and ability to create or support educational contexts (from early childhood through higher education) that help students, families and communities thrive in the midst of such turbulent and uncertain times.
We welcome your paper proposals and participation.  Papers can focus on any level of education (early childhood through higher education/adult), and can address issues pertaining to local, national, or transnational contexts.  We encourage submissions from higher education faculty and students, K-12 educators, those working in community organizations, and those working in policy. See the website for more information about the conference, registration, and paper proposal submissions (Proposal submission deadline extended to April 1, 2017).