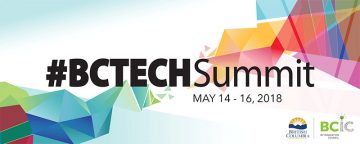 The BC government is hosting another #BCTech Summit, May 14-16, 2018.  There is an opportunity for UBC researchers to highlight their research in what the summit is calling Research Runway, "a key opportunity to disseminate important discoveries, connect researchers with industry, government and funders, and exhibit the research strengths of BC's post-secondary institutions."
As the audience is government, the tech industry and the general public, the idea here is to bring engaging, interactive, and/or visual aspects of research that are relevant to BC's technology industry—more showing than telling. It is also an excellent opportunity for grad students to gain exposure and represent their work.
Anyone wishing to submit a proposal to participate in research runway must complete the questions below and send these responses to Tyler.Harbottle@ubc.ca by December 15, 2017 so that they can be sent to the summit organizers.  The organizers of the conference will select the ones they believe align most closely with the goals and themes of the event.
Researcher Name
Research center, or Lab name
Title of project to be displayed
Abstract (max 300 words)
Description of proposed display
Research description and pertinence to #BCTECH Summit: e.g., briefly describe the research, and its pertinence to the Summit (e.g., expertise in a key area, potential for technological breakthrough or for commercialization, potential impact on society, environment, economy, health, etc)
Who are your main partners for this project (e.g., private industry, international funders)
Any specificities we should be aware of (e.g., oversized equipment)
Appendices: e.g., photos of items to be displayed, website extracts, etc.
There's a bit of information here, but the program is still very much under development. It does appear that the research runway will be held on May 15-16, 2018.
The summit provides an opportunity for UBC to illustrate to government and industry our relevance to the technology economy.  Last time around, UBC put forward a good showing with research displays in the areas of life sciences, advanced manufacturing and precision oncology, a large booth on the trade show floor and spaces highlighting entrepreneurship@UBC, our co-op programs, spin-off companies and the Stewart Blusson Quantum Matter Institute. We plan to put forward a similar level of commitment this year and are working on the various areas where we will make our mark. If you are considering having a presence at the summit beyond the research runway space, please let us know so that we can consider this in our planning in the new year.