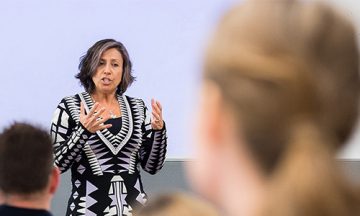 The Scholar Practitioner Conference, held annually at UBC's Okanagan campus, is an opportunity for all educators to foster and enhance professional knowledge and understanding. Community educators, undergraduate and graduate students, and faculty are invited to present curricular innovations, their research and/or professional projects.
This is an opportunity to learn from one another, gain new perspectives, and dialogue critically and thoughtfully with colleagues about important issues in the field.
At its heart, the Scholar-Practitioner Conference is a teaching exercise. Everyone is invited to participate, whether as a listener or presenter.
The 2017 Conference will be held Monday, August 28, 2017 at the UBC Okanagan campus.
To apply to present, please fill out the Proposal Form. All presenters will receive a certificate of participation. View the Guidelines for Proposals.
Presenters can share completed projects or work in process. Presentations may have single authors or multiple authors. Different formats are welcome such as panel, poster, paper and arts-based presentations.
Deadline for receipt of proposals: Proposals will be received and accepted on an ongoing basis starting February 1, 2017. The final deadline for receipt of proposals will be August 15, 2017.

The first annual Scholar-Practitioner was a huge success. With educators from across the Okanagan Valley and even some traveling from Alberta.
The 2016 Keynote Speaker, Jan Unwin, from the Ministry of Education and Advanced Education & Superintendent of Graduation and Student Transitions, talked about the changes in the landscape of education in BC, as well as the importance of collaboration between colleagues. Download a copy of Jan Unwin's Presentation here