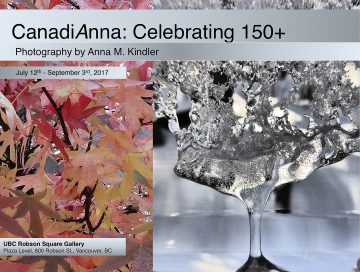 When: July 12 - September 3, 2017
Times: Monday – Friday 7:00 a.m. – 10:00 p.m. Saturday & Sunday 7:30 a.m. – 5:30 p.m
Where: UBC Robson Square Gallery, 800 Robson Street
Dr. Anna Kindler, one of the EDCP faculty members, is having an exhibition of her works: CanadiAnna – Celebrating 150+, at the Robson Square Gallery until September 3, 2017.  If you have time, please make the effort to visit her exhibition.
The exhibition is available for viewing between 7:00 a.m. – 10:00 p.m. Monday through Friday and 7:30 a.m. to 5:30 p.m. on Saturdays and Sundays. It can be accessed through the main entrance adjacent to the Robson Square Ice Rink.