September 27, 2017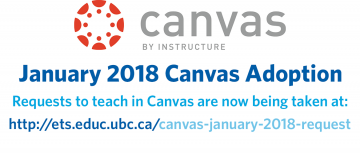 All UBC courses will be migrated to the new Learning Management System (LMS), Canvas, by September 2018. ETS has already started with a small team of early adopters in September 2017, whom we are thanking for taking the first steps towards our transition to Canvas. We have since been receiving mainly positive reception to the Canvas transition, and we are very excited to move forward with further adoption. ETS is aiming to ensure a smooth transition and will provide training and support to increase confidence in the usage of Canvas.
Interested in teaching with Canvas in January 2018?
Please note that only courses fitting the following criteria would be eligible to be taught in Canvas:
It is not part of the Teacher Education Program
It is a graduate course
It is a classroom course
For more information, visit the ETS website or contact us by email at ets.educ@ubc.ca or by phone at 604 822 6333.