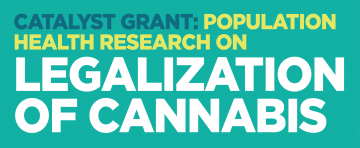 CIHR's Institute of Population and Public Health (IPPH), along with CIHR's Institutes of Circulatory and Respiratory Health (ICRH), Gender and Health (IGH), Neurosciences, Mental Health and Addiction (INMHA), and Health Services and Policy Research (IHSPR), is pleased to announce the launch of a Catalyst Grant focusing on the impact of legalization and regulation of non-medical cannabis in Canada.
View the full funding opportunity
WEBINAR: To support applications in this area, an information session webinar is being organized for June 1, 2017, 2:00 p.m. – 3:00 p.m. EDT. To register for the webinar, please click here.
NOTE: The Nominated Principal Applicant must have successfully completed one of the sex- and gender-based analysis training modules available online through the CIHR Institute of Gender and Health.
KEY DATES:
Information Webinar: June 1, 2017
Application Deadline Date: August 29, 2017
Anticipated Notice of Decision Date: January 16, 2018
Funding Start Date: March 1, 2018
FUNDING DETAILS:
$1 million total, enough for up to ten grants with a maximum of $100,000/year per grant
$400,000 of the $1 million is available for developing data infrastructure
$100,000 of the $1 million is available for an application relevant to First Nations, Inuit, Métis and/or Urban Indigenous populations