November 28, 2017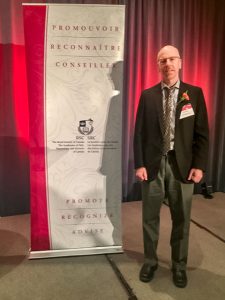 Dr. George Belliveau, professor, Department of Language and Literacy Education, was officially inducted to the Royal Society of Canada's College of New Scholars, Artists & Scientists at the annual Celebration of Excellence held on November 24, 2017 in Winnipeg, Manitoba.
Dr. Belliveau joins previous UBC Faculty of Education inductees to the Royal Society of Canada: Dr. John Willinsky (2000), Dr. Veronica Strong-Boag (2001), Dr. Jean Barman (2002), Dr. Peter Seixas (2004), and Dr. Bonny Norton (2016).
Dr. George Belliveau focuses his research on mobilizing knowledge through research-based theatre. Using his unique theatre-based methodology he has improved the emotional and psychological well-being of teachers, cancer patients, soldiers and their families. His theatre project with Canadian veterans Contact!Unload was recently performed for Prince Harry, as well as on Parliament Hill. He has published over 70 peer-reviewed journal articles and chapters, six books, and performed his research over 100 times.