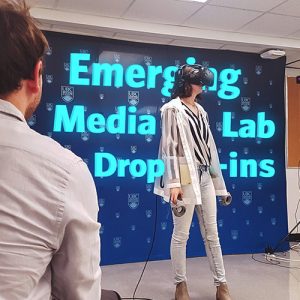 The Emerging Media Lab (EML) featured a VR station at the recent 4th Annual TEC Expo, where attendees had a chance to immerse themselves in a virtual environment using the HTC Vive — from slashing virtual fruits in Fruit Ninja VR, to painting in Google Tilt Brush, to facing their fear of heights in Richie's Plank Experience.
Drop-in sessions
Tuesdays and Thursdays | 12:00 p.m. – 1:30 p.m.
Neville Scarfe Building, Room 1
If you missed the opportunity to try out the VR station at the TEC Expo, come to the Emerging Media Lab's drop-in sessions happening every Tuesday and Thursday from 12 pm – 1:30 pm in Scarfe Room 1. The drop-in sessions are open to all UBC faculty, staff and students. Come to try VR games, check out VR projects that are happening on campus, and find out about the resources available at the EML. You don't need to set-up an appointment, and drop-ins are on first-come, first-served basis.
Immersive Learning Orientations
Last Wednesday of each month
EML also offers a 90-minute orientation session the last Wednesday of each month. This includes an introduction to the available tools at the EML, overview of current projects, how you can get involved, and hands-on demo of the tools.
Keep an eye on eml.ubcstudios.ubc.ca/ for updates on projects, upcoming events, and find out how you can be involved with the projects. For further inquiries about the Emerging Media Lab, contact emergingmedia.lab@ubc.ca.