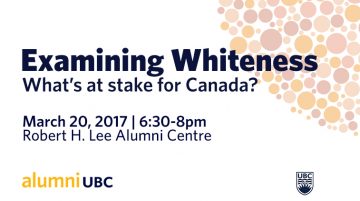 When: Monday, March 20, 2017  |  6:00 p.m. – 8:30 p.m.
Where: Robert H. Lee Alumni Centre, 6163 University Boulevard, Jack Poole Hall, 2nd floor, UBC Vancouver, -or-
Okanagan Regional Library Great Room, Downtown Kelowna Branch, 1380 Ellis St., Kelowna
Can't make it in person? Watch the session via webcast.
With the rise of populism in the US and Europe, the time is right for a frank discussion on the realities of racism and critical reflection on white privilege in Canada. Recent events make it clear that it can and does happen here. Join us for this live webcast event featuring:
Malinda Smith (Professor, Faculty of Arts, Department of Political Science, University of Alberta)
Linc Kessler (Associate Professor of English and First Nations and Indigenous Studies, Director of First Nations House of Learning, and Senior Advisor to the President on Aboriginal Affairs, University of British Columbia)
Handel Wright (Professor; Director of Centre for Culture, Identity & Education, University of British Columbia)
Duncan McCue – Moderator (Adjunct Professor, UBC Graduate School of Journalism; Rogers Visiting Journalist, Ryerson School of Journalism)
Doors open at 6:00 pm, with Live Webcast from 6:30 – 8:00 pm. We will follow up with a community discussion amongst all of those in attendance. Light refreshments will be provided!