May Faculty Meeting & Teaching Awards
May 9, 2018
The Dean hosted the monthly Education Faculty Meeting in order to discuss department updates. There was a formal congratulations given to Dr. Kerry Renwick for completing the International Program for the Scholarship of Educational Leadership and the yearly teaching awards were announced. The Killam Teaching Award was presented to Dr. Cash Ahenakew and Dr. Karen Meyer, the Sessional & Lecturer Teaching Award was presented to Dr. Bathseba Opini and the Killam Graduate Teahing Award was presented to Geralyn Ruissen and Randip Gill.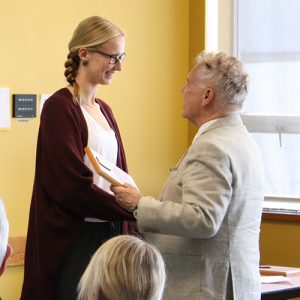 ALDP Year-End Celebration
May 8, 2018
Year-End Celebration reception for the Academic Leadership Development Program (ALDP). Over the past nine months the 2017-18 ALDP cohort of Heads, Directors, Associate Deans, and academic leaders in related roles have engaged wholeheartedly in an array of workshops and studios starting with the Boot Camp last August, as well as coaching, feedback and other leadership development opportunities in order to enhance their effectiveness and contribute to their personal satisfaction in their new roles. Dr. Shelley Hymel and Dr. Mark Carpenter from the Faculty of Education completed the program.
ABCDE Meeting
May 4, 2018
Dean Frank attended an Association of British Columbia Deans of Education (ABCDE) meeting, which represents the Province's nine teacher education programs, and promotes the exchange of ideas with the objective of enhancing opportunities for British Columbia's children.
2018 BC Teacher Education Roundtable
May 3 – May 4, 2018
Dean Frank attended the 2018 BC Teacher Education Roundtable held at Simon Fraser University. This year's theme was Beyond Inclusion: Rights, Responsibilities and Relational Pedagogies, and the panel discussion was led by Mitch Stoddard, Brenda E. Taylor, and Sheila Rawnsley.