28/05/2018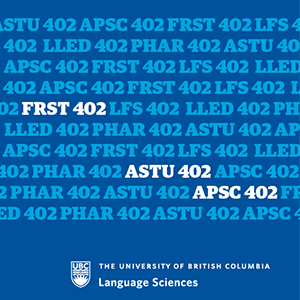 In September, the first ever University-wide course in Language Sciences.  Living Language: Science and Society is a new three-credit course and will cover the scientific study of language as it applies to all domains of human life, in the creation and acquisition of spoken language through writing systems, texts of all kinds, arts, culture, science, and technology.
The course is designed as an upper level course and co-taught by Professor Janet F. Weker from Psychology and Mark Turin from Anthropology & First Nations and Endangered Languages.
Living Language is cross-listed as APSC 402, ASTU 402, FRST 402, LFS 402, LLED 402, and
PHAR 402. Enrolment for this course will be limited to 40 students so make sure to check it out early to get your spot.
You can learn more about the course here.