When: Tuesday, November 14, 2017 | 11:00 a.m. – 1:00 p.m.
Where: Neville Scarfe Building, Room 2415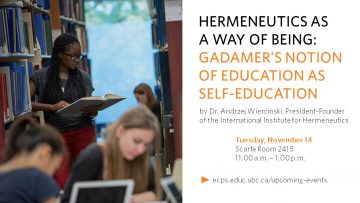 Please join us for a panel on "Hermeneutics as a Way of Being: Gadamer's Notion of Education as Self-Education," by Dr. Andrzej Wiercinski of the University of Warsaw, Poland.
By revisiting hermeneutics, we are reminded that human understanding is always provisional and unending; while Hans-Georg Gadamer's understanding of education as self-education calls for a formation of the self, which transforms our very being. This panel will include Dr. Barbara Weber, Dr. William Pinar, as well as Dr. Walter Kohan as responders.