When: Thursday, April 5, 2018 | 1:00 p.m. – 3:00 p.m.
Where: Ponderosa Commons Oak House, Room 2012, 6445 University Boulevard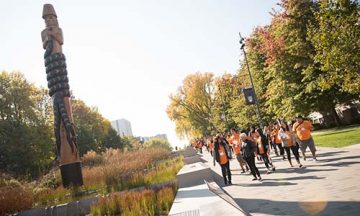 Visiting scholars Dr. Te Kawehau Hoskins (an indigenous Maori of Ngapuhi) and Professor Alison Jones (with settler ancestors) consider the positive and negative effects of critical theory on Kaupapa Maori, a world-leading approach to indigenous thinking and politics. They discuss critical theory's limitations on 'working the settler-indigenous hyphen' in their relationship, noting that failure and disappointment are necessary parts of the engagement.
Schedule: (revised)
1:00 p.m. – 2:00 p.m. | Presentation by visiting scholars
2:00 p.m. – 3:00 p.m. | Sharing reconciliation and decolonizing practices in our coursework
Light lunch provided. RSVP to indigenous.education@ubc.ca for catering purposes.
---
Professor Alison Jones and Dr. Te Kawehau Hoskins are leading scholars in the field of indigenous-settler educational relationships in New Zealand. They are both members of Te Puna Wananga, the School of Maori and Indigenous Education at the University of Auckland. They work in theoretical, historical and contemporary contexts. Their latest book is an edited collection "Critical Conversations in Kaupapa Maori" (Huia Publishers, New Zealand, 2017). Te Kawehau is Dean of Maori Education in the Faculty of Education and Social Work.