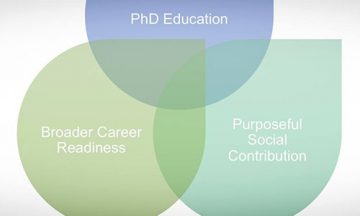 When: Tuesday, March 7, 2017 | 2:00 p.m. – 4:00 p.m.
Where: Thea Koerner House, Graduate Student Society Ballroom, 6371 Crescent Road
Are you a doctoral student at UBC interested in integrating broader and more career-relevant forms of scholarship into your doctoral work, and making a tangible positive impact in the world? UBC's Public Scholars Initiative (PSI) provides academic and financial support (up to $10,000), professional development, and networking opportunities for doctoral students pursuing impactful, collaborative scholarship relevant to a diversity of careers.
The PSI will be entering its third year in Fall 2017, and has been profiled in several national publications as an innovative way to support broadened experiences for doctoral students. On March 7th, 2017, the call for PSI applications for the 2016-7 academic year will be announced (deadline: May 12, 2017). Students, faculty, and staff to are invited to attend the info session to learn more about the initiative, funding criteria and the application process. 2015 and 2016 PSI scholars will join the sessions to share their experiences.