When: Saturday, March 17, 2018 | 9:00 a.m. – 7:00 p.m.
Where: UBC Global Lounge, 2205 Lower Mall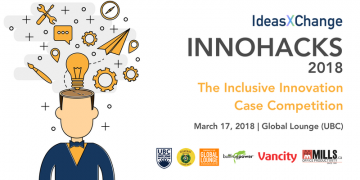 Want to know what inclusive innovation is all about and how YOU can create a product that is inclusive of all abilities? Whether you're in science, arts, business or any other discipline, this event is for you!
The case competition, InnoHacks: Inclusive Innovation, is a 10-hour product development case competition open to students from all faculties at UBC. Through our event, we hope to build UBC students' connections to experts' knowledge and help them generate ideas and insights that will be applicable for future use. We will feature a number of special mentors, judges, and teamwork brainstorming sessions.
Teams of three to five will work together to explore a problem, and further come up with a solution to that problem using the principles of social innovation. Professional mentors with extensive knowledge on the topic of inclusive innovation will be present to guide each team during the brainstorming sessions.
The judges will choose a winning group which will further receive an opportunity to bring their idea to life through the AMS Entrepreneurship Hub Summer Lean Launchpad Program (LLP). The LLP is a 4-week program geared towards helping teams develop their business idea through a series of intense workshops.
Limited tickets available. Get yours today for only $10! All meals throughout the day will be included. Get ready to learn and have some fun along the way!
*If you are a graduate student or faculty member interested in becoming a speaker/mentor/judge for our event, please feel free to contact us at innohacks2018@gmail.com.