When: Soft Opening: Thursday, October 5, 2017 | 12:00 p.m. – 4:00 p.m.
Grand Opening: Thursday, October 19, 2017 | 4:00 p.m. – 7:00 p.m.
Where: Hatch Gallery in the AMS Nest, 6133 University Boulevard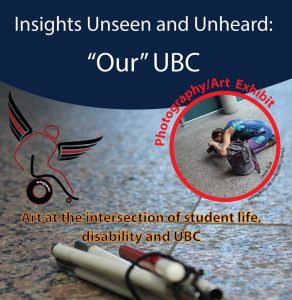 We are pleased to announce the soft opening on Thursday, October 5, 2017 of "Insights Unseen and Unheard: 'Our UBC'", a photography/art exhibit by the Wingspan Collective at the Hatch Gallery.
Running October 5-31, 2017, this art/photo exhibit occurs at the intersections of student life, disability and UBC. It developed from summer photography workshops offered to students with disabilities. The photos and videos show places of refuge, contemplation, anxiety, and barriers they experience in the built environment. It asks: What does UBC mean to some students with disabilities? How do students who identify as having a disability or impairment experience "Our 'UBC'"? The show provides rarely seen or heard insights from students with disabilities through their artistic visions.
Funded by the Haagenson Grant at the Hatch Gallery in the UBC Nest, the grand opening event on Thursday, October 19, 2017 will feature music by Sarah Jickling and her band.
Admission to the exhibit is free and open to the public.
RSVP for the grand opening event
Additional partners and sponsors include: Access and Diversity, The Hatch Gallery, The UBC President's Office, Educational Leadership, and the Department of Educational Studies.
---
The Wingspan Collaborative is a VPRI Research Excellence Cluster and an intellectual 'studio' of interdisciplinary scholars in disability studies, arts, culture and public pedagogy across many disciplines at UBC who collaborate on common projects regarding the rights of people with disabilities and who proactively promote the idea that while individual disabilities pose impairments, they should not be seen as deficits but instead as differences that enrich collective human experience and the arts. We identify variously as disabled, non-disabled or as artists who focus on disability aesthetics and linger in the liminal spaces between and among artist/researcher/teacher in the broadest sense of these terms, hence, we are Dis/A/R/Tographers in an unequal global world.