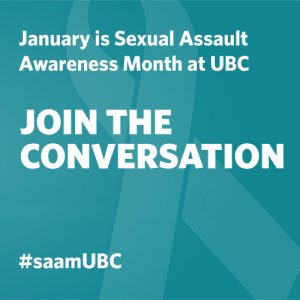 This January, during UBC's Sexual Assault Awareness Month (SAAM), join the conversation about sexual assault that's happening in the media, in our communities, and around the world. The goal of this month of events is to raise awareness and understanding about sexual assault and what you can do to help prevent it.
There are many ways to get involved and help reduce sexual violence:
Attend an event. Visit the full SAAM calendar to find out what's happening.
Attend the highly anticipated SAAM keynote speech and reception with Farrah Khan.
Wear jeans or a Denim Day sticker on Denim Day, January 17th to show your support for ending sexual assault on campus.
Find out more about SAAM and get involved:
To get support if you are a survivor of sexual assault, or to learn more about how you can support survivors, visit students.ubc.ca/sexual-assault.