When: Monday, March 6, 2017 | 3:00 p.m. – 5:00 p.m.
Where: Tea Gallery, Department of Asian Studies, 1871 West Mall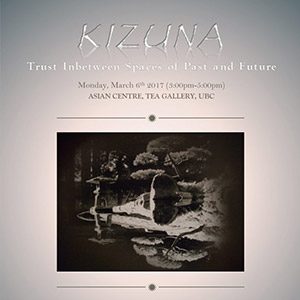 A Poetry Workshop by Dr. Carl Leggo, presented by Yoriko Gillard.
On March 6th, we would like to invite you to gather in the Tea Gallery located at the Asian Centre, UBC. The purpose of this gathering is to contemplate, to unfold, to belong, to cling, to love, and to hope for humanity. It is an educational event supported by UBC Language Sciences and the Department of Language and Literacy Education. Yoriko Gillard, a PhD student in the Department of Language and Literacy Education, is an artist, poet, researcher, and teacher. Her goal is to create a trustful and hearful bond (Kizuna) between humanity through creative social acts. Dr. Carl Leggo is a UBC professor and poet who will help us to see the world in poetry.
The event is free and a Japanese snack will be offered.
If you are interested in this creative gathering or/and have questions regarding the event, please RSVP via email to yorikogillard@gmail.com by March 1, 2017. Space is limited and we appreciate your prompt registration.