When: Thursday, November 16, 2017 | 6:00 p.m. – 11:00 p.m.
Where: Doug Mitchell Thunderbird Arena, 6066 Thunderbird Boulevard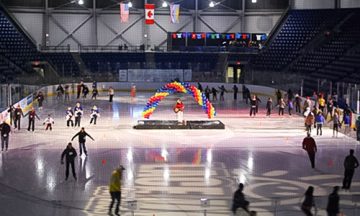 UBC REC and the Rare Disease Foundation, in support of BC Children's Hospital Foundation, wants to help transform the world of rare disease care. For children affected by a rare disease, research is key. Join us in fundraising with a team or on your own. Everyone is welcome to join us on the big day for a silent auction, skating, food and much more!
Join UBC students, staff, faculty and community members and make a difference in a child's life.
If you have questions, please contact either Alyssa Reyes, UBC Recreation Coordinator at lace.up@ubc.ca or Jodi Young, BC Children's Hospital Foundation Philanthropy Coordinator at jyoung@bcchf.ca.