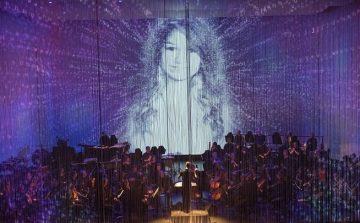 When: Thursday, November 2, 2017 | 12:00 p.m.
Where: School of Music Building, Roy Barnett Recital Hall, 6361 Memorial Road
Presented in partnership with the Vancouver Symphony Orchestra and ISCM 2017.
Panel Discussion
Featuring:
Alexander Shelley, Music Director, NAC Orchestra
Nicole Lizée, Composer
Carol Todd, Mother of Amanda Todd and Cyberbullying Activist
Ann Joe, Daughter of Rita Joe
Samuel Greffe, Visual & Stage Designer
This groundbreaking symphonic work is a celebration of youth, promise and courage, revealed in the compelling and diverse portraits of four women: Alice Munro, Amanda Todd, Roberta Bondar, and Rita Joe. Alexander Shelley, Music Director of the NAC Orchestra, brought together four remarkable Canadian composers – Zosha Di Castri, Jocelyn Morlock, Nicole Lizée, and John Estacio – to collaborate with Creative Producer and Director, Donna Feore, and an ensemble of extraordinary performers and multi-media artists to create this unique symphonic experience. The staging includes stunning projections, which immerse the audience in sound, motion picture, photography, and graphic design. Join NAC Music Director Alexander Shelley, composer Nicole Lizée, as well as special guests Carol Todd, Ann Joe, and Samuel Greffe as they discuss how this innovative work came to life through building trust and taking creative risks.
Free Admission, everyone welcome.