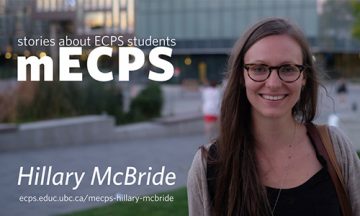 Hillary McBride is a second year Ph.D. student in Counselling Psychology, under the research supervision of Dr. Judith Daniluk. She has most recently received the Routledge Young Investigator Award, and the Dean's Education Award.
During her doctoral studies, Hillary continues the research she started in her Masters: exploring women's relationships with their bodies, particularly when women feel comfortable and appreciative of their own bodies. She is also involved in ongoing research about women's postpartum sexual health, and perinatal mental health – supporting women's well-being during pregnancy, birth, and the postpartum period, as well as the experience of being a female doctoral student.
Hillary's work is deeply personal, and informed by how she has both experienced and observed women's struggles to embrace themselves and their bodies, as they are, in all stages of life. She is an avid tea drinker, and will never turn down a cup of chai.
Learn more about this extraordinary graduate student.
Photo credit: Kevin McBride