When: Thursday, April 26, 2018 | 1:00 p.m. – 2:30 p.m.
Where: Neville Scarfe Building, Room 310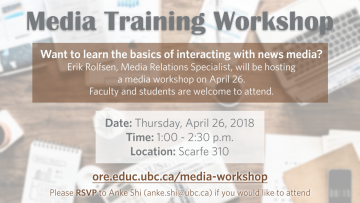 Erik Rolfsen, Media Relations Specialist at UBC, will be hosting a Media Training Workshop for the Faculty of Education on Thursday, April 26, 2018. All faculty and graduate students are welcome to attend.
The session includes a brief introduction to UBC Media Relations, what they do and how they can help promote your research, as well as the basics of interacting with news media. This will involve learning how journalists choose which stories to tell, how their approach to storytelling differs from academic writing, and how this knowledge can help you get your message across effectively during an interview. You'll get practical advice on preparing for interviews, and keeping interviewers focused on the things you want to talk about.
In preparation for the session, please bring ONE of the following documents to the workshop:
A journal article with research findings that might interest the average person. It doesn't have to be your own – it could just be something you've studied, as long as you are quite familiar with the findings. OR
A news story or topic from the past year, about which you feel qualified to comment as an expert in the field.
If you are interested in attending, please RSVP to Anke Shi (anke.shi@ubc.ca). We look forward to seeing you there!