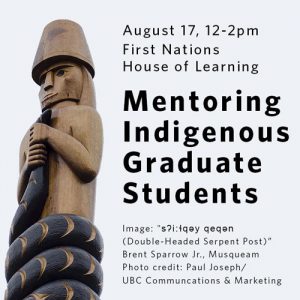 When: Thursday, August 17, 2017 | 12:00 p.m. – 2:00 p.m.
Where: First Nations Longhouse, 1985 West Mall
UBC has a stated commitment to Aboriginal education and to respect for Aboriginal knowledge and cultures, as well as a resolution to build upon the strengths of the university to more fully address the needs of Aboriginal and Indigenous communities in British Columbia, Canada, and the world.
Within these commitments, what is our academic responsibility to Indigenous graduate students at UBC, particularly in relation to UBC's priorities for this next century? How do we enact this responsibility across the institution? What are exemplars of success? What are key challenges?
Join Distinguished Professor Hingangaroa Smith, Te Whare Wānanga o Awanuiārangi, and a panel of Indigenous scholars and students, led by Dr. Jo-ann Archibald, Q'um Q'um Xiiem, Professor Emeritus, University of British Columbia, for a discussion of how to better mentor Indigenous graduate students at UBC. The panel includes Amy Parent, Assistant Professor at Simon Fraser University, Aurelia Kinslow, PhD student in Education, and Andrea Lyall, PhD student in Forestry.
This event is open to faculty, staff and graduate students.
About the forum
Organized by the Faculty of Graduate and Postdoctoral Studies with support from the First Nations House of Learning, Supporting Aboriginal Graduate Enhancement (SAGE), the Teaching and Learning Enhancement Fund, and the Equity Enhancement Fund.
For questions, please contact Theresa Rogers: theresa.rogers@ubc.ca