April 24, 2017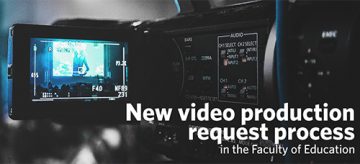 Educational Technology Support (ETS) promotes and supports the use of videos that have profound and lasting impact. Videos could be used for coursework, informational overviews or for promotional use.
ETS prioritizes and coordinates projects; provides pedagogical support; and project management as needed. In response to the need of a formalized system for video production requests, the Faculty of Education is introducing a new process.
The process aims to make the workflow more equitable, transparent and streamlined. The goals are to:
Make the process simpler;
Link resources to the Department priorities;
Use resources strategically;
Provide means to prioritize projects;
Enable regular feedback about available resources.
The video production request process:
Complete the Online Video Production Request form.
Use the Video Production Time Estimator form to estimate the number of support hours required to complete the project.
Forward the request to the Department Head for approval.
Once you have the Department Head approval, the request becomes a work order for ETS. ETS will coordinate the project completion with AV and any other members included in the process.
In addition to the above service, the Do-It-Yourself option is also available. ETS can provide consultation, training, and support for DIY projects.
Contact ets.educ@ubc.ca or call 604 822 6333 for more information.