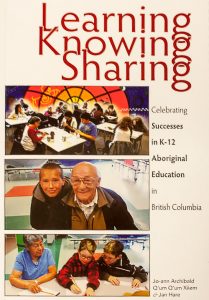 When: Friday, December 1, 2017 | 3:45 p.m. – 5:30 p.m.
Where: The Westin Bayshore, Salon 3, 1601 Bayshore Drive, Vancouver
On December 1, 2017, alumni and friends of NITEP, UBC's Indigenous Teacher Education Program, are invited to gather for a reception at the Westin Bayshore in Vancouver following the First Nations Education Steering Committee (FNESC) Conference Workshops.
A special feature is a book launch for Learning, Knowing, Sharing: Celebrating Successes in K-12 Aboriginal Education in British Columbia co-edited by Dr. Jo-ann Archibald, Q'um Q'um Xiiem (EDST) and Dr. Jan Hare (LLED). Come and meet the editors and some of the authors.
Please RSVP by November 24, 2017. You do not need to be registered for the FNESC Conference to attend.