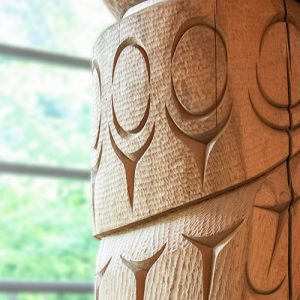 Sereana Naepi, Faculty of Education PhD candidate in Educational Studies and UBC PSI Scholar, is a co-applicant on a $1 million Canadian Institute of Health Research (CIHR) grant funded through the CIHR's Institute of Aboriginal People's Health Indigenous Mentorship Network Program. 
The grant will establish a home at Thompson Rivers University (TRU) for an international network of Indigenous health researchers and knowledge keepers led by Dr. Rod McCormick (Kanienkehaka), BC Regional Innovation Chair in Aboriginal Health at TRU, which provides Indigenous health graduate students and new researchers with opportunities to learn about traditional healing, fully preparing them to become leaders in their chosen fields. Called Ombaashi, an Ojibwe word meaning to soar upwards or to be lifted by the wind, this network of Indigenous research experts and mentors extends through Canada, Australia, Fiji, Mexico, Nicaragua, Norway, New Zealand, Samoa, Tonga, and the United States.
Other co-applicants include Dr. Alanaise Goodwill, former assistant professor in the Department of Educational and Counselling Psychology, and Special Education (ECPS).
---
Ombaashi: Indigenous Mentorship Network Program-National /International Co-ordinating Centre
$1,000,000 | 5 years