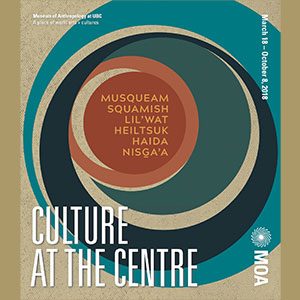 When: Sunday, March 18, 2018
Where: UBC Museum of Anthropology
The UBC Museum of Anthropology (MOA) is celebrating the opening of its new exhibition, Culture at the Centre, on Sunday, March 18, 2018, with dancing from the communities represented in the exhibition: Musqueam, Squamish, Lil'wat, Heiltsuk, Nisg̱a'a and Haida.
From 1 to 4 p.m. you will take part in cultural sharing with these different nations and witness a piece of their cultural history. Then you are invited to see the Culture at the Centre exhibition, which brings together Indigenous-run cultural centers and museums from across British Columbia and opens a window on the important work that they do. Experience dynamic displays, animated maps, Indigenous languages and rarely-seen items in this unprecedented exhibition.
Opening remarks | 1 p.m.
Free admission | 12 – 5 p.m.