When: Tuesday, May 1, 2018 | 5:30 p.m. – 7:00 p.m.
Where: Vancouver Public Library, Georgia Branch, 350 W. Georgia Street, Vancouver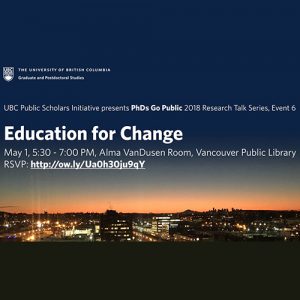 The PhDs Go Public Research Talk Series returns in 2018 with six dynamic events, where doctoral students tell their community-engaged research stories in just under seven minutes. The event spotlights doctoral students from UBC's Public Scholars Initiative to present on how their research is contributing to the public good, and making a change in the world. This year's themes include education, environment, culture, social justice, and health.
The theme for the next talk scheduled on May 1, 2018 is Education for Change, and will be featuring students from the departments of Language and Literacy Education and Educational Studies:
Harini Rajagopal (Language and Literacy Education)
Natalia Balyasnikova (Language and Literacy Education)
Claudia Diaz-Diaz (Educational Studies)
Simangele Mabena (Language and Literacy Education)
Analise Hofmann (Genome Science and Technology)
Neila Miled (Educational Studies)