When: Friday, March 16, 2018 | 6:00 p.m. – 7:30 p.m.
Where: UBC Robson Square, Room C400, 800 Robson Street, Vancouver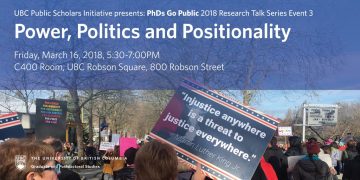 The PhDs Go Public Research Talk Series returns in 2018 with six dynamic events, where doctoral students tell their community-engaged research stories in just under seven minutes.
First initiated by the Graduate & Postdoctoral Studies in the 2015/16 academic year, the PhDs Go Public events spotlight PhD students from UBC's Public Scholars Initiative (PSI), who use the Pecha Kucha format to present on how their research is contributing to the public good, and making a change in the world. This year's themes include education, environment, culture, social justice, and health. Mark your calendars, and stay tuned for updates!
---
Politics, Power, and Positionality 
Speakers: Nina Ebner (Geography), Bronwyn Bragg (Geography), Ketty Anyeko (Interdisciplinary Studies), Barnini Bhattacharyya (Commerce), Alexander Held (Political Science), Jose Arias-Bustamante (Forestry), Lindsay Cole (Interdisciplinary Studies)
For more information, contact: Serbulent Turan (Public Scholarship Coordinator) at serbulent.turan@ubc.ca or visit grad.ubc.ca/psi.