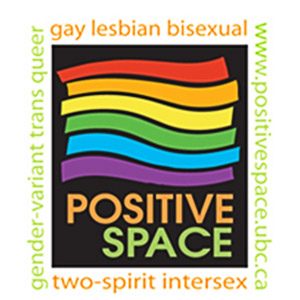 When: Friday, April 21, 2017 | 1:00 p.m. – 3:00 p.m.
Where: Irving K. Barber Learning Centre, Room 256
Is your UBC working, learning or living environment welcoming to LGBTTQIA+ students, staff and faculty? Would you like to learn more how to improve and positively impact the climate for sexual and gender diversity?
The Positive Space foundational workshop covers current language, issues, resources, and best practices in an interactive and experiential learning environment. Participants will gain relevant knowledge and skills to use in their academic, work and campus life.
Pre-registration is required.