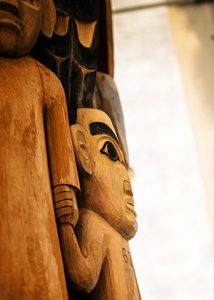 When: Saturday, April 1, 2017  |  1:00 p.m. – 2:00 p.m.
Where: Main Mall, between Agronomy Road and Thunderbird Boulevard
Honouring a Time Before, During and After Canada's Indian Residential Schools
The University of British Columbia invites you to join in the raising of Reconciliation Pole.
Reconciliation Pole will be installed in the manner of a traditional Haida pole raising. All are welcome to attend.
The University of British Columbia is located on the traditional, ancestral and unceded territory of the Musqueam First Nation.
This event is happening rain or shine, please come prepared with warm clothing.
A few hundred people will be pulling ropes to help raise the pole. There will be a ceremony director and then sub directors at each rope (approximately five or six ropes in all) who will tell the raisers what to do, when to pull, etc. The process will take approximately 1 – 1.5 hours.
Download the formal invitation (PDF).
About the artist
Born in 1952 into the Eagle Clan at Old Massett, Haida Gwaii, Haida master carver and Hereditary Chief 7idansuu, James Hart, has been carving since 1979. In addition to his monumental sculptures and totem poles, he is a skilled jeweller and printmaker and is considered a leader among Haida artists in the use of bronze casting.