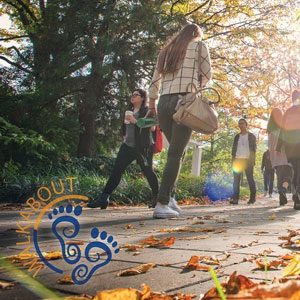 Registration is now open for the 12th annual Walkabout!
Starting on January 22, 2018, Walkabout is an annual nine-week health and wellbeing challenge promoting regular exercise in social settings. Everyone at UBC is welcome to create teams of five and or register as an individual and achieve personal and team goals for only $10/person.
Attend the kick-off to learn more or to meet up with your team on January 17, 2018.
---
Registration
Sign-up before Sunday, January 29, 2018.
---
2018 Walkabout Kick-Off Event
Wednesday, January 17, 2018 | 12:00 p.m. – 1:30 p.m.
Ponderosa Commons Oak House, Ballroom, 6445 University Boulevard
---
2018 Awards Celebration
Thursday, April 5, 2018 | 12:00 p.m. – 1:30 p.m.
Neville Scarfe Building, Room 310, 2125 Main Mall
---