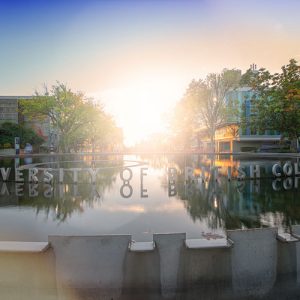 Congress 2019 will be held at UBC from June 1-7, 2019. The theme of this conference is "Circles of Conversation." Congress 2019 will showcase creative critical engagements in literature, visual arts, theatre, and music. Particular attention will be focused on productive scholarly relations with Indigenous communities.
This particular initiative is to provide generous financial support ("subventions") for a number of parallel events or exhibitions that showcase the (often interdisciplinary work) we do at UBC. The events may be scheduled under UBC Programming (for research and creative work) or Career Corner (related to pedagogy or the profession). We will provide financial support (up to $5000) to individuals or groups working in the social sciences and humanities at UBC to create an event or installation to be presented at Congress, preferably in conjunction (or conversation) with an association or community group. These events will supplement the work being done at the association meetings. The subventions may be used for speakers (fees and travel) to speak in collaboration with UBC researchers, performers, materials for installations/ compositions, production costs, or other directly-related expenses. The funds are not meant for salaries, operating equipment, or research assistance. Projects with a legacy potential (ie. that can be shown to have a lasting impact on/at UBC) will be given priority. For example, a short colloquium could be presented in conjunction with an exhibition and the exhibition could form the basis of a future collection to be housed at UBC.
Application materials: Send us (info.Congress2019@ubc.ca) a two page proposal with an event title, a description of the event, and the central research questions it addresses. The proposal should include a statement of connection to associations or community groups, if applicable, and a description of the organizer/organizing team. A summary budget (1 page max) and complete contact information are also required. Deadline: June 15, 2018.