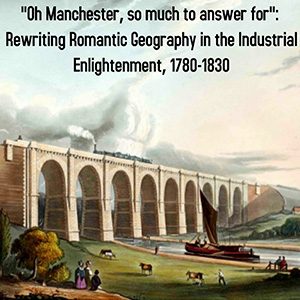 When: Thursday, March 2, 2017 | 4:00 pm
Where: Dodson Room, Ike Barber Learning Centre
This talk by Professor Jon Mee from the University of York will interest anyone in 18th and 19th century literature and science, interdisciplinarity, intellectual culture, and the spatialization of knowledge. Save the date!
The lecture challenges the view that the industrial cities of the north of England – Manchester, Liverpool, Newcastle, Sheffield, and Leeds chief among them – represent the antithesis of the literary, political, and environmentalist ideals of British romanticism. This lecture argues instead that they incubated a vibrant intellectual and literary culture staked on a relationship among literature, science, and technology distinctive to modern urban experience. They were far from hostile to emergent ideas of 'genius' – a quality that was understood to belong just as properly to civil engineers like James Brindley as to poets like William Wordsworth – but thought its best effects depended upon dissemination and development by multiple others, not least, of course, readers and discussants. Significantly, the model of the literary and philosophical societies, emerging in their mature form in Manchester in 1781, were created as collaborative networks in themselves and as nodal points in wider regional and national networks that might sustain the work of 'improvement'. In practice, these open circuits were hard to sustain and continually experienced disruption and blockages, not least over questions of religious and political differences, but even as it was forced to adapt to new historical circumstances, for instance, after the French Revolution and again after the cessation of war in 1815, the idea that improvement could be achieved across different forms of human endeavour remained remarkably resilient applied to spheres as different as public health and the development of modern poetics.
Jon Mee is Professor of English and Related Literatures and Director of the Centre for Eighteenth-Century Studies at the University of York (UK). He has a PhD from the University of Cambridge and has held appointments at Warwick, Oxford, and Australian National Universities. He has also received several important Leverhulme and AHRC grants. As well as publishing numerous co-edited books and collections, articles, and chapters on a range of topics including the cultures of sociability and enthusiasm in the eighteenth and nineteenth centuries, British radicalism in the 1790s, William Blake, Charles Dickens, and the Indian novel, Professor Mee is the author of five monographs: Dangerous Enthusiasm: William Blake and the Culture of Radicalism in the 1790s (Oxford UP, 1992), Romanticism, Enthusiasm, and Regulation: Poetics and the Policing of Culture in the Romantic Period (Oxford UP, 2003), The Cambridge Introduction to Charles Dickens (Cambridge UP, 2010), Conversable Worlds: Literature, Contention, and Community 1762-1832 (Oxford UP, 2011), and most recently, Print, Publicity, and Popular Radicalism in the 1790s: The Laurel of Liberty (Cambridge UP, 2016). He is currently R. Stanton Avery Distinguished Fellow in the Humanities at the Huntington Library in Los Angeles, California where he is conducting research for his sixth monograph to be entitled "Networks of Improvement: Literature, Knowledge, and the Industrial Revolution 1781-1830."
For more information please contact Prof. Alexander Dick, English (Alex.Dick@ubc.ca).