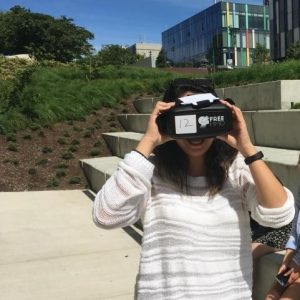 In the month of June 2017, as part of the large TLEF project, "Enhancing Secondary Teacher Candidates' Digital Competencies", students and instructors in each section of LLED 361 had the opportunity to explore the possibilities of Augmented Reality (AR) and Virtual Reality (VR) in the classroom. There were more than 10 workshops offered throughout the month. The goal was to learn how AR/VR can offer immersive experiences and innovative ways of working with multi modal texts and story across subject areas.
After introducing the concepts of AR and VR, students had an opportunity to test VR headsets and Google cardboard goggles by watching 360 videos. They then split into three stations of choice:
The first VR station required teacher candidates to go outdoors onto the UBC campus and create 360 images using the Google street view app on their phone. Once the image was saved, they then viewed their creations using Google cardboard goggles or VR headsets.
The second VR station took teacher candidates on a virtual tour using Google expeditions  Teacher candidates took turns leading their peers on various virtual tours that ranged from under the sea adventures, to archaeological sites, museums and over mountaintops.
The third station was an AR station that offered hands on creative possibilities for teacher candidates. They experimented with creating virtual layovers that appeared on the iPad when scanning pre-selected targets through the app Aurasma  For example, if an instructor was giving a lesson on dinosaurs and selected a book on dinosaurs, he/she could select the cover of the book as the target on Aurasma so when the cover is scanned with the iPad, it would trigger an overlay of moving images of flying dinosaurs or it could take you to a video about dinosaurs. After visiting the stations, the students then collectively reflected on how AR/VR technologies can be useful in their own classrooms.