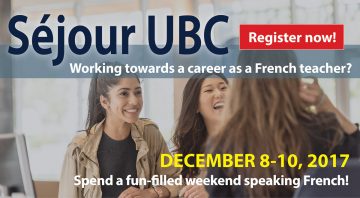 When: December 8-10, 2017 | 5:00 p.m. – 1:00 p.m.
Where: Ponderosa Commons Oak House, Room 2012, 6445 University Boulevard
Now open to in-service teachers!
Séjour UBC  is a weekend event offered entirely in French to support the language development, intercultural learning, and instructional strategies of French teacher candidates in UBC's Teacher Education Program. Students will be welcomed Friday evening with a cheese tasting and take part in several workshop activities and a cultural outing on Saturday. Dr. Meike Wernicke will lead an interactive session on intercultural learning on Sunday. 
Join us for a fun-filled weekend!
Get to know other French students and teacher candidates!
Boost your confidence by spending a whole weekend speaking French!
Learn how to recognize and manage common French errors!
Take away resources that you can use right away!
Who is this for?
French specialists who want to teach/TOC in French immersion
Generalists who want to teach French at the elementary level
Anyone who is thinking about becoming a French teacher
Registration
$50 UBC students
$80 non-UBC students

$120 in-service teachers
Includes: Refreshments Friday night, light breakfast and lunch Saturday & Sunday